PANEL
Is the new generation of steel overhead doors that use the same covering of the sectional overhead door Sector 2, always interpreter in the exclusive De Nardi style. Available in the four aesthetic rapresented, with two surface variants (smooth or embossed) and a numerous range of standard and special ral colors.
The model PANEL is composed of panels of 49,5 and 61,5 for 4,2 cm of thickness. Composed of two opposing sheets of sendzimir galvanized steel and stucco embossed, wood and smooth; male and female profiled with anti-pinch shape. Inner and outer side with ribs for reinforcement longitudinal channels. Coupling without thermal bridge between internal and external sheet with insulating in polyurethane foam free from cfc injected with the foaming process continuously. With or without internal steel reinforcement.
The family of the insulated overhead door PANEL, is enriched with new versions, destined mainly for the residential shipbuilding market. They are made with the traditional pillar of 6-8-12 cm, are coated with an insulated panel of 2,5 cm of thickness. The metal parts are always painted with polyester powders for maximum resistance to atmospheric agents. The painting of the panel, outer and inner, is performed by spraying by means of a special anti-corrosion treatment. All ral colours of the bribe De Nardi are available, both standard and special.

Safety according to CE marking
Panel overhead doors are CE certified and they are equipped with the following safety systems:
anti-fall system with double certified cable: breaks cable? The second intervenes, breaks the second cable? The door is locked in the position in which it is, thanks to the parachute of the series. Since 1998 it has never occurred the break of both certified cables.
Limitation of forces: an electronic system adjusts the engine power, maintaining the impact forces within the parameters of safety.
Mechanical safety rib: provides continuos self-test excluding any possibility of uncontrolled failure.
Protection of lever arms: safety and beauty. The levers are designed and positioned as the law requires, are coated to balance into the overhead door.
Durability and manoeuvrability: tested with 20.000 cycles of opening and closing, they didn't have to undergo interventions of extraordinary maintenance and/or replacement of components.
Wind resistance: certified class 2.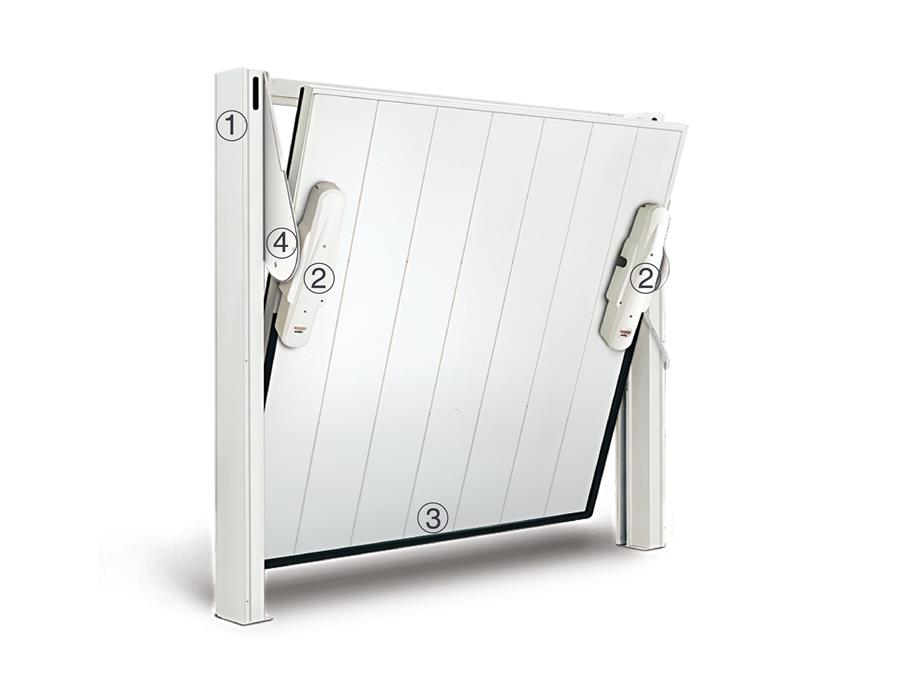 1 Anti-fall system with double certified cable
2 Limitation of the forces
3 Mechanical safety edge
4 Levers protection
anti-fall system with certified cable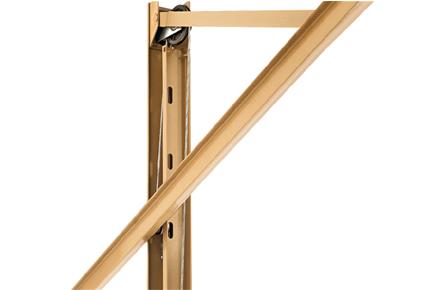 In case of breakage of the suspension cable, the "parachute" stops immediately the overhead door in the position in which the break occurs.
anti-fall system with double certified cable